Intensive Course on Intraoperative Neurophysiological Monitoring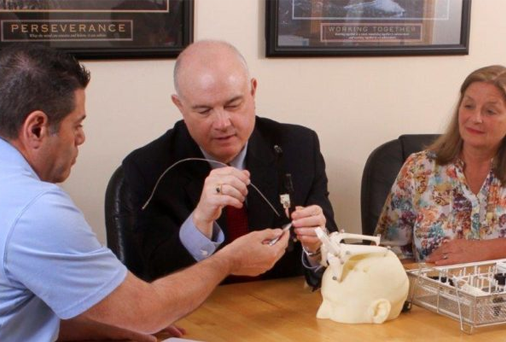 2023 Course Dates to be Announced
Knowledge + skill through professional development
Many neurological disorders have proven remarkably responsive to Deep Brain Stimulation (DBS) and other forms of neuromodulation. An urgent need exists among patients, family members and caregivers for physicians and professionals who are trained in surgical and nonsurgical approaches to care. Worldwide demand is surging for skilled medical management teams capable of efficiently managing pharmaceutical, emergent and second opinions related to DBS care.
As assets to patients, hospitals and medical sales, GNC graduates play an integral role in nonsurgical, surgical and postoperative success. Primary care, specialty, and subspecialty physicians; surgical nurses, assistants, and technicians; hospital administrators; industrial sales and technology representatives – all benefit from GNC's advanced professional development courses.
With its emphasis on increased knowledge, skills and competence, this program provides participating hospitals an edge in retaining qualified staff. Designed with the workplace in mind, GNC courses uphold exceptional care as their standard.
Day 1
Foundations
Preoperative Workflows
Preoperative Setup & Protocols
Target Introduction
Setup & Planning Workshop
Intraoperative Artifact
Day 2
Planning Workshop
Intraopertive Recording Part 1
Intraopertive Recording Part 2
Intraopertive Cases
Day 3
Microstimulation
Macrostimulation
Intraoperative Clinical Rating
Postoperative Patient Care
Day 4
Intraoperative Systems Workshop
Case Workshop
Postoperative Considerations
Registration Information
Tuition and Registration Information
Tuition for the newly formatted 4-day IONM course is $2,500.
Consult with your hospital administrators regarding tuition reimbursement programs. Partial scholarships and other financial aids available.
Once your registration is received, our Scholarship Review Committee will determine the scholarship amount to be rewarded if eligible and will be contacted via email. Please email Ben Beck at bbeck@fh-co.com or call (207)666-5651 x3224 with any questions.
Cancellation/Refund Policy
Requests for cancellation, substitution or transfer of course registration must be received in writing 30 days prior to the course or symposium in order to receive a full refund less a $50 processing fee. No refunds will be issued for cancellations, substitution or transfers after that date. Email written cancellation, substitution or transfer requests to bbeck@fh-co.com. All requests must be received in writing.
GNC reserves the right to cancel a course. Registrants will be notified by telephone and email of any cancellations. In the event of course cancellation, registration fees are refundable. However, airline and hotel penalties are the registrant's responsibility.
Americans with Disabilities Act
GNC will take steps to ensure that no individual with a disability is excluded, denied services, segregated or otherwise treated differently than other individuals because of the absence of auxiliary aids and services. If you require any of the auxiliary aids or services identified in the Americans with Disabilities Act in order to attend any GNC program, please contact Ben Beck at bbeck@fh-co.com or (207)666-5651 x3224 prior to arrival.
Disclosure
Before the program, all faculty members will disclose the existence of any financial interest and/or the relationship they or their significant other might have with the manufacturer(s) of any commercial product(s) to be discussed during their presentation.
Total Scholarship Awards:
Residents and Graduate Students – NO cost beyond the $100 non-refundable deposit
Fellow – 2/3 off the total cost
Less than two years since completing residency, fellowship, or graduate degree – 1/3 off the total cost Greenville Neuromodulation Center reserves the right to limit the number of scholarships awarded.
Scholarship Application Requirements:
Those seeking to apply for the scholarship must send an e-mail to bbeck@fh-co.com attesting current status:
Resident
Graduate Student
Fellow
Less than two years since completing residency, fellowship, or graduate degree
Scholarship Information
Greenville Neuromodulation Center is pleased to announce scholarships for the Intensive Course on Intraoperative Neurophysiological Monitoring.
---
Those seeking to apply for the scholarship must send a current curriculum vitae (CV) to bbeck@fh-co.com. If you have any questions, please call (207)666-5651 x3224 or email bbeck@fh-co.com
Travel and Accommodations
Registrants are responsible for their individual air travel and lodging expenses. If arriving in a personal vehicle, all parking is free. Enjoy complimentary coffee and snacks throughout each day.
Recommended Airports:
Pittsburgh International Airport
Cleveland Hopkins International Airport
Recommended Hotel Accommodations:
Cianci's Motel
399 Mercer Road, Greenville, PA 16125
Phone: 724-588-8550
Cobblestone Hotel & Suites
81 Hadley Road, Greenville, PA 16125
Phone: 724-588-4200
Holiday Inn Express – Sharon/Hermitage
3060 Spangler Road, West Middlesex, PA 16159
Phone: 724-982-4600