Intensive Course in Intraoperative Neurophysiological Monitoring
Knowledge + skill through professional development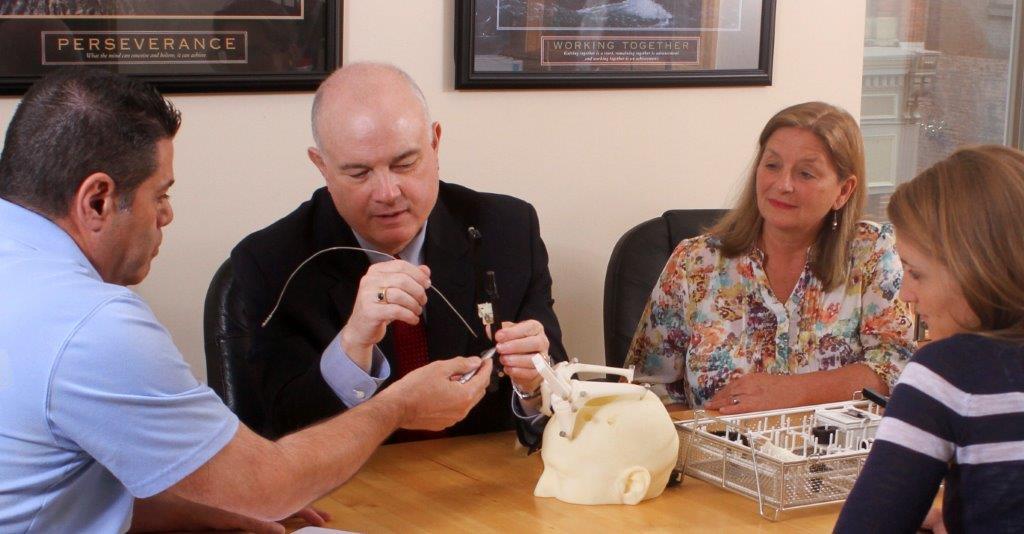 Many neurological disorders have proven remarkably responsive to Deep Brain Stimulation (DBS) and other forms of neuromodulation. An urgent need exists among patients, family members and caregivers for physicians and professionals who are trained in surgical and nonsurgical approaches to care. Worldwide demand is surging for skilled medical management teams capable of efficiently managing pharmaceutical, emergent and second opinions related to DBS care.
As assets to patients, hospitals and medical sales, GNC graduates play an integral role in nonsurgical, surgical and postoperative success. Primary care, specialty, and subspecialty physicians; surgical nurses, assistants, and technicians; hospital administrators; industrial sales and technology representatives – all benefit from GNC's advanced professional development courses.
With its emphasis on increased knowledge, skills and competence, this program provides participating hospitals an edge in retaining qualified staff. Designed with the workplace in mind, GNC courses uphold exceptional care as their standard.
Current Course Offerings
Fall 2019 Course – October 21 – 29
Module 1 – October 21-23, 2019; 8:30 AM – 5:00 PM  $2,400
Module 2 – October 24-26, 2019; 8:30 AM – 5:00 PM (Course ending by 1 PM on October 26)  $2,400
Module 3 – October 28-29, 2019; 8:30 AM – 5:00 PM $1,400
From understanding the challenges of identifying the optimal target, the course covers principles of electricity, electronics, neuroelectrophysiology, intraoperative clinical assessment, and regional anatomy. Cases illustrate the application of practical approaches and principles to DBS targeting.
Module 1 starts at the most fundamental level and proceeds to enable the participant to understand the operations of neurophysiological monitoring equipment. The course starts with the question "what is an electron?" and progresses to how intraoperative neurophysiological monitoring controls the flow of electrons to amplify neurophysiological signals as well as to excite neurons when using micro- or macro-stimulation in the operating room. At the completion of module 1, the participant will understand the operations of intraoperative neurophysiological monitoring equipment, how neurophysiological signals are recorded and amplified, how to prevent noise and artifact, how to recognize noise and artifact, and how to remove or control noise and artifact. Microelectrode recordings, local field potential recordings, microstimulation, and macrostimulation are covered.
Module 2 is an introduction to the nature of neurophysiological signals, analysis of the signals, methods for stimulation, and interpretation of the signals and responses to stimulation in order to identify the anatomical/physiological recording sites. The nature of recording sites within a trajectory through the brain will be described to characterize the regional anatomy/physiology of the trajectory. Methods for intraoperative neurological assessments are reviewed. At the end of module 2, the participant should be able to answer the question "Is this the optimal trajectory to place the DBS lead?" The participant should also be able to know how to change the direction of the trajectory if the original trajectory is not found to be optimal for DBS lead placement.
Module 3 introduces methods for automated analyses of the microelectrode recording (MER) signals. The automated analyses include: detection of neuronal extracellular action potentials in the MER, discrimination into action potentials attributable to individual neurons, estimation of the number of neurons at the site (neuronal density), discharge frequencies of individual neurons and the pool of neurons at the recording site, detection of special neuronal action potential waveforms, differentiation from artifact, characterization of the pattern of neuronal discharges, and determination of sensori-motor driving of neuronal activities. The mathematical and statistical algorithms are reviewed, as well as hands-on practical experience with the automated systems.
All participants will receive a complimentary copy of Dr. Erwin B. Montgomery Jr.'s  book:
Intraoperative Neurophysiological Monitoring for Deep Brain Stimulation: Principles, Practice and Cases